Princess has just announced their 2022 & 2023 Australia & New Zealand cruising programs, and it's going to be the largest ever, with a full 12 months of cruises on offer!
The year-long season will feature four ships & 108 destinations in 33 countries with 90 unique itineraries.
No less than 40 different Australian ports will be called upon, plus 30 in New Zealand and 18 in the South Pacific, in addition to the ever-popular repositioning cruises to or from Asia, with the convenience of sailing from Sydney, Brisbane, Melbourne, Adelaide & Fremantle. There's even a round trip world cruise option (departing Australia) with Coral Princess!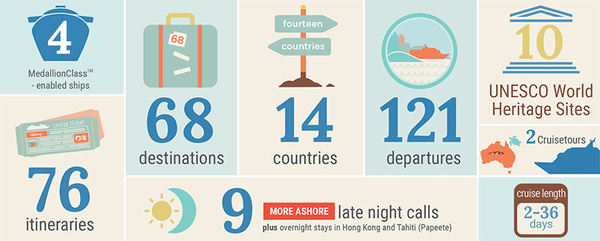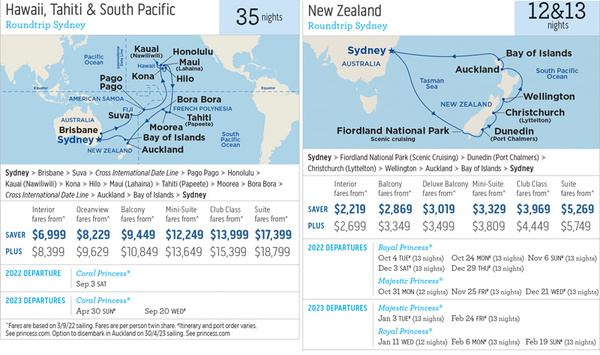 First time two Royal Class ships will sail out of Sydney – Majestic & Royal Princess.
New Zealand roundtrip cruises feature a variety of destinations.
Also available one way cruises to/from Auckland.
Stunning Pacific islands feature on the Hawaii, South Pacific & Tahiti cruises with roundtrips from Sydney and one way repositioning cruises.
First opportunity to cruise Round Australia on Coral Princess®, the itinerary includes a maiden stop in Kuri Bay†, famous for pearl farming.
Cruise from/to Asia on a repositioning voyage.
Tasmania features including a delightful 4 night Tasmania Getaway.
Popular Queensland, Fiji and Papua New Guinea itineraries return offering great snorkelling opportunities and cultural experiences.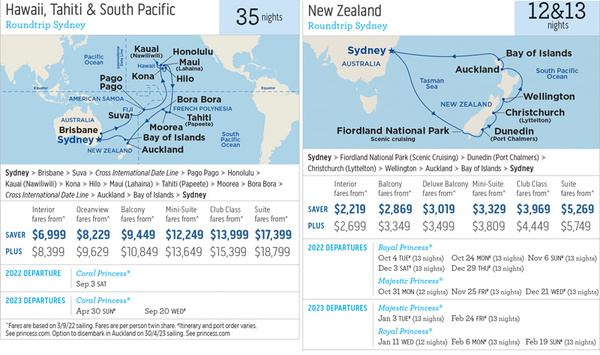 Sail on Grand Princess® who makes her debut and calls Melbourne home.
Choose from 20 itineraries between September 2022 and March 2023.
7 spectacular New Zealand cruises feature a variety of destinations.
Head to the tropics on a cruise to Fiji or along Queensland's coast and see our magnificent Barrier Reef.
The popular Southern Australia Explorer itinerary returns with one-way options between Melbourne and Adelaide.
Discover more and relax on a repositioning voyage between Asia and Australia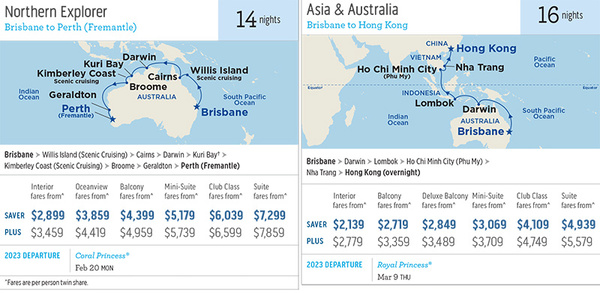 Coral Princess® calls Brisbane home for the season.
First opportunity to join the epic Round Australia cruise on Coral Princess®.
Roundtrip New Zealand cruises offer magnificent scenic cruising of the Fiordlands.
Popular one-way Northern Explorer cruises between Brisbane and Perth (Fremantle) offering exciting opportunities to linger longer.
A 10 night Tasmania cruise offers spectacular World Heritage sites.
Wander and relax along the Queensland coast or head out to remote and spectacular Papua New Guinea.
Join Royal Princess® on a one way repositioning voyage visiting Indonesia, Vietnam and Hong Kong.
Discover idyllic islands across the Pacific on a Hawaii, Tahiti and South Pacific cruise.
And many more from Adelaide & Perth and dont forget the World Cruise leaving from AUstralia!