Linking the remote towns of western Victoria, towering structures adorned with masterful artwork stand proud amongst the rural surrounds. Here, the characters of the Wimmera Mallee are uniquely celebrated through a series of painted silos, brought to life by renowned artists; each of which you'll experience on this stunning Captain's Choice journey through the province's heart by air, land, and water.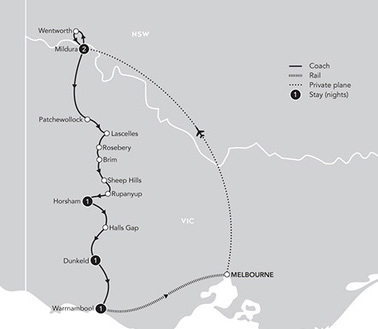 The adventure begins with a privately chartered flight to Mildura, aboard a luxurious private aircraft.
On arrival in Mildura you will work your way south along the iconic Silo Art Trail.
As you venture south, the region gives up its gourmet secrets allowing you to enjoy it's majestic river scenes and mountain outlooks. Your journey home then takes place aboard a heritage train fit for royalty.
6 Day Tour, Departs 22 Mar 2021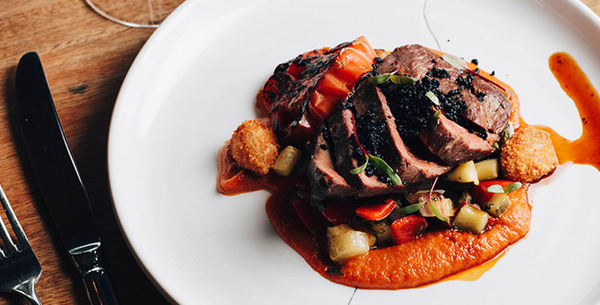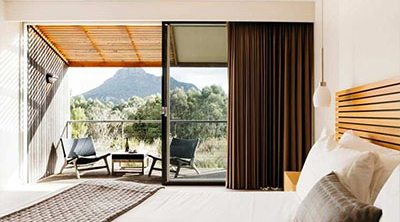 When you aren't marveling at the grandeur of the Silo art or savouring the treats of the Royal Rail, you might be enjoying some r&r at one of the luxurious hotels along the way. The first spot on the list, the historic Quality Mildura Grand. Proudly sitting opposite the Murray River, her landmark facade belies the modern interiors of her rooms, which offer sublime comfort.
The Royal Mail Hotel, one of your next glamourous stays, finds itself nestled at the base of one of the Grampian's iconic ridges. Award-winning dining, a celebrated wine cellar and an array of distinctive rooms ensure your overnight here is one of considerable indulgence. Here you will savor an inspired degustation menu whilst overlooking the lofty peaks.


Conclude your journey with a magical trip back in time aboard a heritage train. This exclusive private charter utilises carriages once occupied by the Queen. Each first-class compartment is reserved for just four guests ensuring maximum comfort and window space for each guest. Onboard you will enjoy a high tea to remember whilst you chug along home to Melbourne.