We know non-essential travel to the USA seems far aw ay right now but for when you and the world are ready, so are we and so are United.
70% of the world is covered in water. United Airlines covers the rest
There's no limit to how far you can go. Especially when there's no limit to where you can fly. With United Airline's comprehensive route network and daily flights from Australia to the USA, you can conveniently connect to over 300 destinations across the America and beyond.
United Airlines began nonstop services from Australia to the United States in 1986 and has celebrated 34 years of continued service to Australia. Today, United serves Sydney with nonstop flights from San Francisco, Houston and Los Angeles; and Melbourne with nonstop flights from Los Angeles and San Francisco.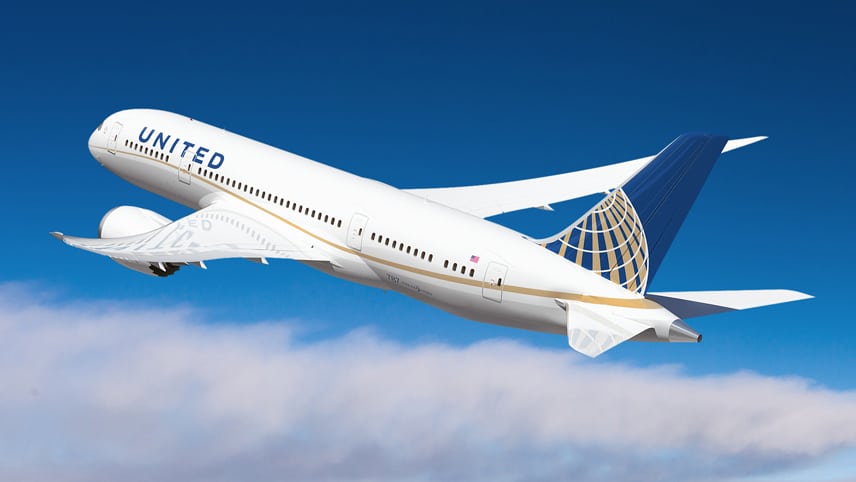 Experience non-stop Dreamliner service from Australia to the US with United Airlines
United currently services Australia with their Boeing 787-9 Dreamliner. The 787-9 has a total of 252 seats – 48 in United Polaris Business Class and 204 in United Economy, including 88 Economy Plus seats with up to 12.7 cm extra legroom and increased personal space. All seats have access to power outlets and customers can enjoy satellite-based Wi-Fi throughout their journey.
The 787 Dreamliner is revolutionising the flying experience for United Airlines customers and crews while delivering unprecedented operating efficiency, comfort and lower emissions.
Customers experience greater comfort with improved lighting, bigger windows, larger overhead bins, lower cabin altitude and enhanced ventilation systems, among other passenger-friendly features. The aircraft's use of lightweight composites, together with its modern engines and improved aerodynamic design, allow it to fly farther, faster and more efficiently than similar-sized conventional aircraft.
United Airlines is currently retrofitting aircraft which will feature all new Polaris seating as well as introducing United Premium Plus
United Premium Plus, where comfort meets convenience
United Premium Plus has already been introduced on some of United Airlines 787 Dreamliner fleet and will continue to roll out to the remainder over the next 24 months.
The United Premium Plus seats provides more comfort for customers with 38" seat pitch, 6" recline and up to 19" seat width. Each seat has bonus features such as an adjustable leg rest, foot rest, and individual power outlet and USB charger, conveniently located near the arm rest.
You'll receive upgraded dining options on custom dinnerware with flatware and for the perfect complement to your meal (or just your movie), enjoy complimentary alcoholic beverages.
Sit back and relax with an inflight entertainment screen that's up to 13 inches (versus the standard 9 inches).  You'll also receive premium noise-reducing headphones, a Saks Fifth Avenue blanket and pillow, and an amenity kit with some little extras to keep you comfortable and refreshed during your flight

United Polaris – Business class reimagined
United Polaris business class service is designed to bring a new level of quality to every aspect of premium cabin travel – from lounge to landing – and provide the best sleep in the sky.
In a first-of-its-kind partnership, United Airlines worked with Saks Fifth Avenue to create custom, luxury bedding for United Polaris customers. You'll have the choice of two different blankets — a quilted duvet and a lighter throw blanket — to help you find the perfect amount of warmth. Mattress cushions are also available upon request, to bring extra comfort to your onboard fully-flat bed.
When curating our United Polaris amenities, there is a strong emphasis on providing comfort and creating the right environment for restful sleep. Cozy slippers are perfect for quick trips out of your seat or for just standing and stretching during a long journey. In your amenity kit, you'll find premium skincare items from Sunday Riley to keep you feeling relaxed, refreshed and moisturized, as well as ear plugs and an ergonomic eye mask to block out any ambient distractions while you sleep. On flights longer than 12 hours, pyjamas are also offered upon request.
To get your mind ready for sleep, you can plug in the provided premium noise-reducing headphones, and tune to the relaxation channel in your seatback entertainment system for peaceful sounds or even guided meditations.
United executive chefs have created a Polaris menu that features fresh, seasonal ingredients and bold flavors from around the world. The dishes will rotate every month, so you'll continue to have new dishes to experience on board. Be sure to partake in their famous custom sundae desert service, created for you at your seat. For those mid-flight cravings, passengers are offered à la carte snacks that you can enjoy at your convenience.
Customers can visit United Polaris lounges at Chicago O'Hare, Houston Intercontinental, Los Angeles, New York/Newark and San Francisco. The San Francisco lounge was voted Best Business Class Lounge in the World by the 2019 World Airline Awards from Skytrax.
The United Polaris lounges are available exclusively to our international premium cabin travellers, offering a thoughtful selection of amenities — such as signature seating, a relaxation area and showers — to help you prepare for your flight.
If you'd like to freshen up, our spa-like shower facilities feature products formulated exclusively for United by Sunday Riley. You can also sit back and relax in a tucked-away area with daybeds, soft lighting and gentle white noise, which will put you in the perfect mood for a restful flight.